Heidelberg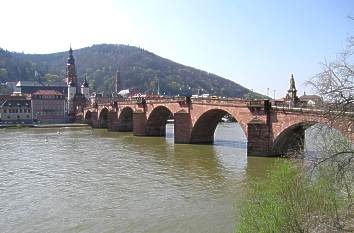 Bridge (Alte Brücke) across the Neckar river - next »

or centuries already Heidelberg has attracted foreigners. Also poets and artists always felt welcome in this city, and that is part of the reason why this town on the Neckar river is one of the most often described cities of Germany and also well known worldwide. Heidelberg is the town of romanticism. That is mostly due to the impressive ruins of the castle, the Old Town in baroque style, the Old Bridge across the Neckar river and last but not least to its mild climate.
Actually it was a very tragic incident that created today's view of the old inner city. In the years 1689 and 1693. French troops destroyed Heidelberg almost completely. After that the town was rebuilt in the baroque style. The castle though has stayed a ruin up until today. With the surrounding parks it was bound to become the idol of Romanticism.
Heidelberg's most famous institution is its university, which had been established in 1386 as the 3rd university of the then "Holy Roman Empire". After several ups and downs in its history it gained international reputation first after the Reformation, when the "Theological Philosophy of the Catechism of Heidelberg" was developed. The old students' pubs are also very interesting as for example these: "Zum roten Ochsen" and "Zum Sepp'l". They are furnished as in the olden days and have ancient students' graffiti on the walls.These old pubs are main attractions for students and tourists from all over the world.
Because of the narrow river valley the town could only spread into the direction of the upper Rhine plains. The city is also one of Germany's important cultural centers. It has an unusual amount of theaters and museums. Moreover the surrounding area with the castles of the Neckar valley, the ancient cultural area of the upper Rhine river and the hills of the Odenwald represent a lot of recreational possibilities for tourists and natives alike.
Photos of Heidelberg's inner city (click for more information):












More information about Heidelberg: