Erfurt
Erfurt
Hotels
Tourguide for free
Town Map
Deutsch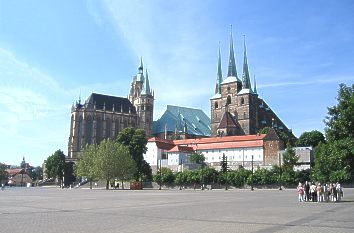 Main Cathedral and Severi Church with the big market square - next »

rfurt, first mentioned in 742 in early records, developed into one of the most important German cities during the Middle Ages. The town gained wealth and political influence through the trading and export of a blue dye gained from the woad plant. Erfurt's wealth and importance led to the foundation of its university in 1392, the third in the German-speaking area. From 1501 to 1505 Martin Luther, the well-known reformer of the church studied here.
When Europe's trade expanded to more distant lands, the more readily available and cheaper Indigo-blue dye replaced the more expensive dye made from woad plants, and had a negative effect on Erfurt's growing prosperity. Much later the city experienced another period of wealth and growth through the development of professional plant and seed growing for gardening and through the beginning of industrialization.
Today Erfurt is a modern city with a very beautiful historical center, one of the biggest preserved and nationally protected historical town centers in Germany. The unique complex of Cathedral and Severi Church right next to each other is an architectural highlight as is the "Krämerbrücke" (merchants's bridge) which crosses the Gera river and is flanked by picturesque little half-timbered houses on both sides. Some other tourist attractions are the baroque Petersberg fortress overlooking the town center, the beautiful Erfurt gardening exhibition area, and the Thuringian Forest, which is very closeby. All these contribute to Erfurt's position as an attractive center for tourism.
Photos of Erfurt's inner city (click for more information):














More information about Erfurt: