Rothenburg ob der Tauber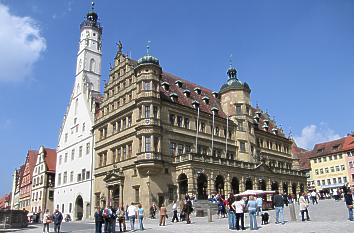 City hall at Marketplace - next »
othenburg is considered the most medieval-looking city in Germany. The almost completely preserved city wall, many historical architectural monuments, and the interlacing old lanes put the visitor into an atmosphere that reminds them of past times. This is due to a city development that has been stagnant for centuries. Thus after the 30-year war, the free imperial city (which was originally very rich) fell into insignificance for a long time. Even the industrial impetus of the early days seems to have bypassed Rothenburg. However, at the end of 19th century people realized that tourist money could be made from the city's long sleep that lasted several hundred years. Now the old buildings are conscientiously preserved. The "Alt-Rothenburg" association (www.alt-rothenburg.de) was founded in 1898 and still has a lot of influence even today as it continues to successfully promote the preservation of the old structural fabric of the city.
The city lies on a plateau 65 meters above the Tauber Valley. The valley is nearly vacant, which is why one can enjoy an undisturbed look at the unique historical silhouette from here. Rothenburg is one of the most-visited sights in Bavaria with over two million guests yearly. Although the city presents itself as a big open-air museum and seems like a" typically German city" to foreigners, the old facades hide a more modern life-style. It has adapted itself to the problem of having lots of tourism and city which doesn't allow traffic within its gates.
Rothenburg is especially popular on Whitsuntide (Pentecost) weekend when a spectacle takes place commemorating the time during the 30-Year War when the city council saved the city from destruction by the Catholic general, Count Johann Tserclaes, with the help of a masterdrink.
Photos of Rothenburg's inner city (click for more information):













More information about Rothenburg ob der Tauber: