Berlin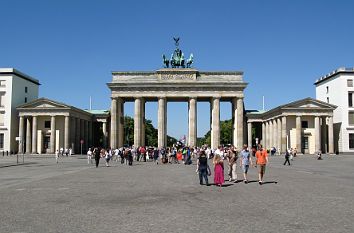 The Brandenburg Gate - next »

he German capital and former metropolis of Prussian kings has been through hard times. Massive destruction during the 2nd world war and the time afterwards when Berlin was split into 2 parts has strongly changed the historical appearance of the city. Today, Berlin presents itself as a mix of historical buildings, ultra-modern business premises, and administration buildings. During the course of several centuries, the city was developed into a magnificent residential area for the powerful in Prussia. The 18th and 19th century is when Prussia reached the peak of its power and had an especially strong influence on the appearance of the city with its bombastic classical buildings. The elegant "Unter den Linden" (Under The Lime-Trees Street) avenue became famous worldwide. During WWII, it was almost completely destroyed. The essential components of this unique boulevard of triumph between the Brandenburg Gate and the no-longer-existing city castle were restored again. The Gendarmenmarkt (gendarme's market) with its theatre (today a concert hall) flanked by two churches, and the French and German cathedrals are also especially worth seeing. This place, one of the nicest ones in the city, was painstakingly rebuilt during GDR times. A particularly spectacular event after the reunification in the 1990s was the modern reconstruction of Potsdam square with the Sony centre, the Kollhoff Tower, the "debis" house, and the Bahn Tower (Railroad Tower). Today this centrally located area with its roofed-over passages is one of Berlin's tourist magnets. In addition, with about 160 museums, theatres, and numerous cabarets, Berlin is a cultural metropolis of international ranking.
Sights, places of interest, and other destinations in Berlin:

Berlin city centre
A short stroll through Berlin's city centre with its historical as well as ultra-modern buildings and places.

Gendarme's Market
For many visitors and locals, Gendarme's Market with its classic buildings is the nicest place in the historical part of Berlin.

Potsdam Square
The most modern place of the city with its unconventional and spectacular buildings is a significant tourist attraction.

Unter den Linden
The most elegant boulevard in Berlin, which was rebuilt after the 2nd world war, shows monarchist as well as middle-class splendour.

Hackesche Höfe
With its interesting mixture of culture, art, and shopping area, the biggest residential and trade court area of Germany, which was built in the years 1906/07, is an unusual visitor's magnet.

Charlottenburg Palace
The baroque palace arrangement surrounded by a gigantic garden is the most impressive building of the Prussian kings in the city of Berlin.